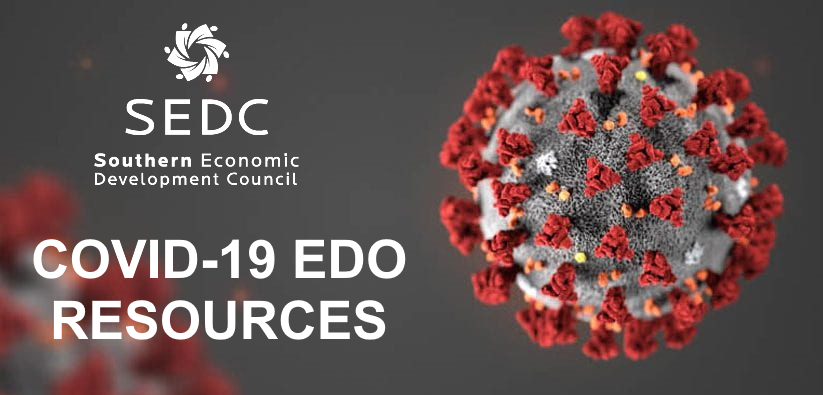 Many of SEDC's members are individuals and companies that provide valuable products and services to other SEDC members. In these difficult times, we have had some of these members offer complementary services, information, and products to our members, so we have started this page to highlight these offerings. If you are an SEDC member providing products and services to SEDC members and would like to participate in this free service, please send your description (introduction about 50 words) and a link to more information to matthew@sedc.org. We will add additional updates as we receive them.
---
GIS WebTech COVID 19 Impact Planning Reports
GIS WebTech is offering to provide free COVID-19 Impact Planning Reports to all SEDC members. These reports do not include infection rates but rather give a summary of key demographic and healthcare indicators for each community that are helpful to informed decision-making. They are in the form of a two-page infographic package and come in pdf, image and HTML files. Please see www.giswebtech.com for more information and to request your free report.
---
GIS Planning COVID-19 Interactive Mapping Tool
Last week GIS Planning released a new, free interactive GIS mapping tool for all US communities and EDO's to track the spread of COVID-19 by county (updated daily) along with Chmura's JobsEQ Job Loss Vulnerability Index. To get this, the EDO or community needs to just grab the embed code from Share Report on this page
:
https://www.gisplanning.com/covid-19-map
.
You can read more about it here
:
https://blog.gisplanning.com/new-free-covid-19-gis-mapping-data-tool-for-us-economic-development
.
You do NOT need to be a client to get this. Free for everyone.
The COVID-19 data comes from
the New York Times and is updated daily. The JobsEQ Job Loss Vulnerability Index comes from Chmura - you can read more about it here. The New York Times coronavirus data tracker includes the following variables:
Total cases
Total cases per 10K population
Total deaths
New cases
Total deaths per 10k population
Cases (% growth)
% Age 65 plus
Click here to download your free mapping tool
---
COVID-19 Resource Guide for EDOs and Chambers
Convergent Nonprofit Solutions We have consolidated a few resources here from our professionals, partners, and others that may be helpful for you. Please do not hesitate to contact us to talk specifically about your economic development organization or chamber of commerce and its future.