Back to Events
2023 SEDC Annual Conference - Williamsburg
Sunday, August 13, 2023
to Tuesday, August 15, 2023
Event Details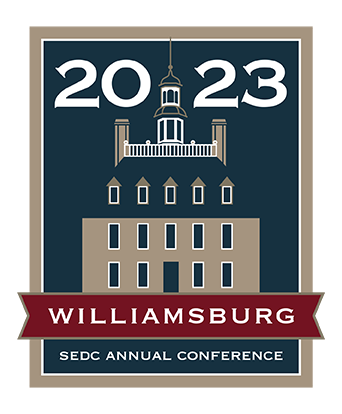 The Southern Economic Development Council will be convening for its Annual Conference in Williamsburg, Virginia, this summer. August 13-15, the conference will be at the Williamsburg Lodge, located in the city's heart. We will bring together approximately 350 economic development professionals from around the world.
We invite you to join us this August in Williamsburg for a true one-of-a-kind event. Ticket sales are open now!.

---
Acknowledgment of Enhanced Safety and Health Measures for All Attendees: Registration and attendance at, or participation in, SEDC's in-person events constitutes an agreement by the registrant to abide by SEDC's and the host property's efforts to comply with current CDC recommendations related to COVID-19 (and any state of Georgia requirements) and to engage in certain health-and-safety-beneficial conduct while attending the event as requested by SEDC (e.g., wearing a mask, engaging in appropriate physical distancing, not attending the event if feeling sick or showing certain symptoms).  You agree not to hold SEDC, Marriott Hotels, or any of their directors, officers, employees, or volunteers liable for any illness or injury.
Special Needs: In compliance with the Americans with Disabilities Act (ADA), conference management will make all reasonable efforts to accommodate persons with disabilities at its meetings. If you need assistance or if you have dietary restrictions, please indicate this on your registration form or call the SEDC Office at (404) 523-3030.
Registration Fees: Member and non-member registration fees include All conference sessions, Tuesday reception, breakfast, and lunch Tuesday, and breakfast on Wednesday. To obtain a refund, all cancellations must be received in writing at the SEDC office by July 1st. All cancellations will have a $50.00 administrative charge up until this date. Cancellations received after will have a $150.00 cancellation fee. Any registrant who does not submit cancellation correspondence by August 1st and does not attend the meeting must pay the balance in full. Registrants may substitute attendees without penalty. However, appropriate member/ non-member rates will apply to substitute attendees.
Consent for the use of Photographic Images: Registration and attendance at, or participation in, SEDC meetings and other activities constitutes an agreement by the registrant to SEDC's use and distribution (now and in the future) of the registrant or attendee's image or voice in photograph productions and audiotapes of such events and activities.