"Laissez les bon temps rouler!"
The Southern Economic Development Council will be convening this summer for its Annual Conference in New Orleans, Louisiana. The conference, August 4-6, will be at The Ritz-Carlton, New Orleans, located in the heart of the city. The theme of this year's event, Brave. New. World. will bring together approximately 350 economic development professionals from around the world.
We invite you to join us this August in New Orleans for a truly one of a kind event. Our schedule, activities, receptions, and speakers are coming soon. We encourage you to register and book your room early as we will sell out this year. Click the buttons below for more information.
---
Click play below to view our incredible 2019 Conference promotional video!
Book your room early!
Our room block WILL SELL OUT this year.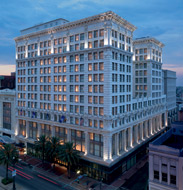 The Ritz-Carlton, New Orleans
921 Canal Street New Orleans LA 70112
$169 per night 08/02/19 through 08/07/19
• SEDC offers no partial or daily registrations.
• SEDC reserves the right to limit or restrict registration.
• Registration must be received no later than July 29, 2019. After this date, registrants must register and pay fees on-site.
• SEDC policy states that full payment is required prior to the start of the event. Anyone with an outstanding balance may be denied entry.
7 Other Registered Attendees